SOS-ESM PVC – 600-PVC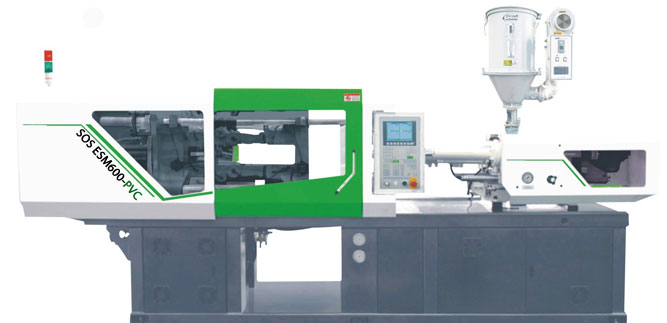 Special designed Bi-alloy screw and barrel for PVC, UPVC and CPVC. Special thread design, complete screw without stop and seal rings, radius corner, large nozzle hole.
Special Surface hardness chrome plated screw which is high corrosion resistant.
Barrel fitted with Multi-stage fan blower to ensure precise temperature control with an even narrow melt range to avoid thermal degradation of PVC material in barrel.
High-Torsion / Low-Rotation Hydraulic charge motor meets the high.
Torque requirement for PVC material Plasticization.
Extended width from sheer-metal guard door design to accommodate core puller cylinders, efficient the mold installation, reduce investment cost, improved Safety for operator.
Equipped with core & puling device to meet the requirements of fittings eject out from the mould.
5 Points vertical double toggle mechanism.
Dual-cylinder balance injection system.
Multi-stage pressure & speed injection.
Back- pressure adjustment device.
Low-pressure mold protection.
Multiple hydraulic ejector knock-outs.
Mechanical and electrical safety devices.
Concentrate lubrication system.
Hydraulic proportional control.
Mechanical leveling pad.
Optimized composition hydraulic of the famous brands control.
Hydraulic safety device.
Linear transducer control.
Multiple options of computer CPU systems.
ABOUT US
In the year 1994, a man dreamed to establish a group of companies in different streams of businesses & to launch with, is Factory Automated Field & then instantly took it into action without any hesitation on the name SOS Group of Companies.