SIMATIC HMI Basic Panels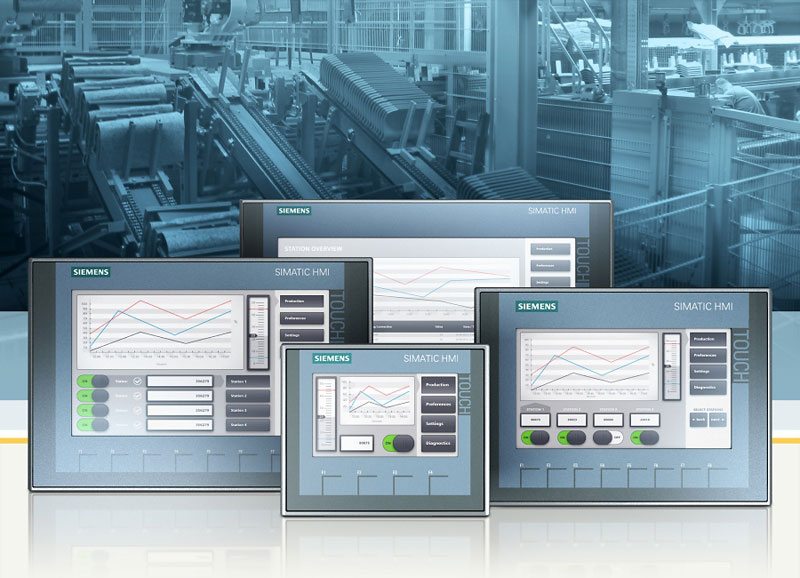 Cost-effective operation and monitoring in the 2nd Generation :
With their sophisticated HMI basic functions, SIMATIC HMI Basic Panels 2nd generation are the ideal entry-level series for simple HMI applications.
The device series offers panels with 4″, 7″, 9″ and 12″ displays, and combined key or touch operation
The innovative widescreen displays are high resolution with 64,000 colors. They can be installed in portrait mode and are especially energy-efficient due to their 100% dimmable brightness.
The innovative user interface opens up a wide range of operations with improved usability through new controls and graphics. The new USB interface allows you to connect a keyboard, mouse and barcode scanner and supports easy archiving of data on a USB stick.
The HMI Basic Panels 2nd Generation at a glance
Ideal entry-level range for simple HMI applications
Engineered in the TIA Portal
Installation compatibility with SIMATIC HMI Comfort Panels and existing SIMATIC HMI Basic Panels 4" and 6".
Flexible scalability within the HMI range.
High-resolution, dimmable wide-screen displays with 64.000 colors.
Innovative user interface and improved usability thanks to new controls and graphics.
Touch / key functionality for intuitive operation.
Interface for connection with various PLCs.
Versions for PROFIBUS or PROFINET
Archiving via USB stick.
ABOUT US
In the year 1994, a man dreamed to establish a group of companies in different streams of businesses & to launch with, is Factory Automated Field & then instantly took it into action without any hesitation on the name SOS Group of Companies.